SMDC Field Residences - LOCATION
The SMDC Field Residences is situated along Sucat Road, Brgy. Sucat, Parañaque City. Fronting the SM City Sucat, the site is just a few kilometers away from SLEX, EDSA, NAIA Road, Roxas Blvd., and the Coastal Road going to Cavite. The NAIA Terminals and domestic airport are a mere 3km away to the north, while the Entertainment City, City of Dreams, Solaire Resort and Casino, Resorts World, and Manila Bay Resorts are also nearby. Even prestigious schools, such as Olivarez College, PATTS College of Aeronautics, and Euro Campus School, as well as first-class hospitals, the likes of Olivarez Medical Center and The Medical City, are reachable within minutes from the site. These are not only the reasons that the Field Residences is an ideal reprieve for starting and growing families, and even for the young professionals, there are more than a thousand possibilities.
Nothing says that one had made it quite like a Paranaque address. Paranaque city delivers exclusive and distinctive living experiences that are rare to come by. The highly urbanized city hives its residents a privileged life that they have always wanted to live. Paranaque gives its residents elegant retreats all year round
Paranaque city is home to multinational and the country's top corporations. This simplifies the lives of the residents as services of these office are just minutes away. This city integrated convenience and comfort to offer vibrancy in its residents' lifestyle. Furthermore, these offices are the best place to look for jobs. There is nothing better than living in Paranaque city as everything has been simplified for the residents. They get to enjoy a premium lifestyle as the city offers them all that they need. Every single day Paranaque touches the lives of its residents in an unexpected but positive way.

As a resident of Paranaque city, one gets to enjoy living at a close proximity to the central business district. Most of the residential areas are close to the city's CBD making the residents' lives much simpler. The short distance from the residential areas makes it easier for the residents to easily access services and goods from the central business district at their convenient time. The Field Residences, for instance, is just a short walk from major places of interest in the CBD. The highly urbanized city makes the residents lives blissful in so many ways.

In addition, Paranaque takes it a notch higher by providing recreational and entertainment centers to its residents. The fact that there are several touristic centers means that the residents live surrounded by the magnificence of this city. The Asiaworld city, Chinese temple, Olivatez Plaza Parañaque among other touristic sites are waiting to give the residents a thrilling experience. In addition, entertainment joints are just a short walk from the city's residential areas. The residents have no reason of not experiencing daily happiness as everything they need in order to amuse themselves is within their reach. Life has never been this exciting. Paranaque allows its residents to live without limits and to celebrate all of life's milestone at its palms. Furthermore, Paranaque introduces a new perspective to residential living in an exhilarating manner.

Paranaque is a marvelous city that elevates the lives of its residents by bringing everything at their doorstep. The commercial centres and institutional establishments are just a short walk from the residential areas. In addition, the commercial establishments offer a wide array of living options suited for the needs and lifestyles of the residents of Paranaque city. The SM City Duvat, SM City Bicutan and Baclaran are just a few example of the shopping centers and malls that ate ready to give Paranaque residents a thrilling experience in their shopping experience. The residents of Paranaque have nothing to worry about when it comes to shopping for other cities look up to Paranaque for their needs.
How to get there:
From South Luzon expressway, take Sucat Exit. Follow Dr. A Santos Ave. (Sucat Road) then left turn at SM City Sucat Building A entrance road. Go straight until you reach Field Residences.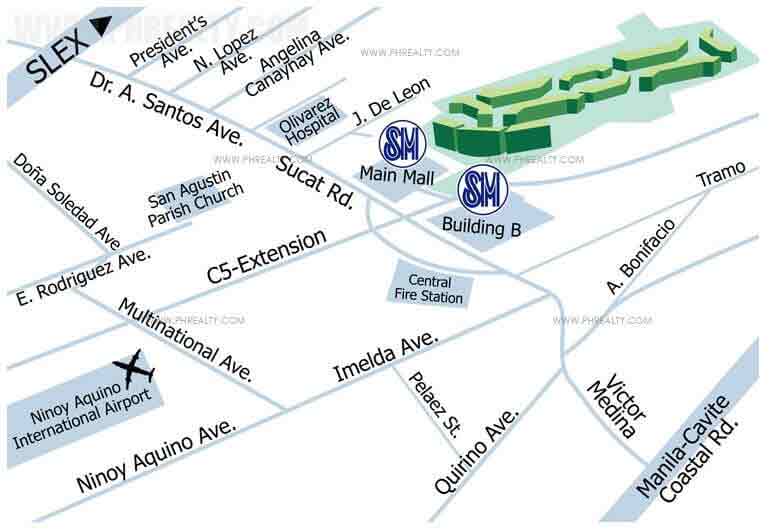 The magnificently planned location where Field Residences is situated is a very important factor to consider on why you should invest in it. Belonging to the dynamic city of Paranaque, it is specifically found along Sucat Road, Brgy. Sucat. You can easily find means of transportation through its accessibility with SLEX, Roxas Boulevard, NAIA Road, and EDSA. You can even drop by to the City of Cavite through the Coastal Road. For travelers at heart, Field Residences is definitely fit for you.

The NAIA Terminals are estimated to be only 3km away bringing you the edge of being minutes away when you have flights to catch. As for your doses of entertainment and leisure, the City of Dreams, Solaire Resort, Resorts World, Entertainment City, and the newly-opened Okada Manila are just very nearby the Field Residences. When it comes to the assurance that your children are only getting the best education, Field Residences is surrounded by prestigious schools as well. Some of the well-known schools are PATTS College of Aeronautics, Olivarez College, and Euro Campus School.

For health concerns, esteemed hospitals are just around the corner and can be reached instantly especially for emergencies. The Medical City and The Olivarez Medical Center is readily available for your needs. Now when you are in need of spiritual replenishment, various places of worship such as the El Shaddai Shrine, Our Lady of the Most Holy Rosary Parish, and San Dionisio Church are just a few of the many churches you can visit.